Before Driving Out
I already knew the exact car I wanted. I found a match on cargurus.com. See the original ad here.
Before I spend 2.5 hours driving out to them I wanted to confirm a few things via email. One thing was the vehicle was CPO (Certified) and the to confirm the price.
We had come to an agreement on the price and Mark also confirmed the vehicle was CPO and in addition also included the date the CPO warranty for this specific vehicle would expire.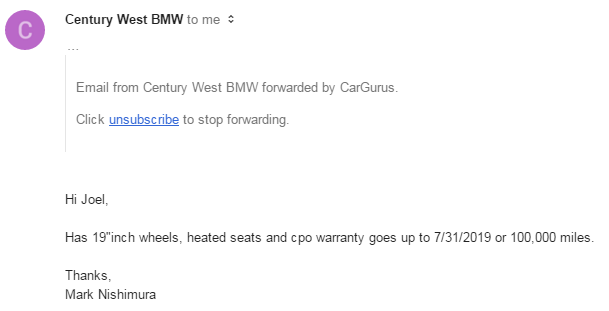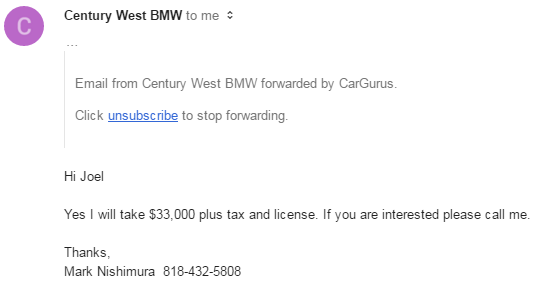 Arrival at Century West BMW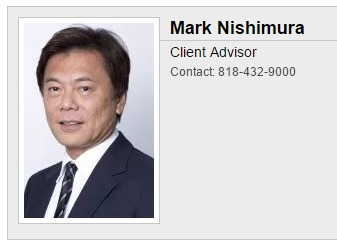 I am greeted by Mark Nishimura and immediately we begin looking at the car which is parked right up front waiting for me. I refuse a test drive because I am familiar with this vehicle and just want to complete the sale.
Before entering the dealership office he says there is one thing about this vehicle... it has been in an accident. I am a little surprised though I comment that it must not have been serious since the vehicle is CPO.
Mark informs me that this is definitely not a CPO vehicle and cannot be CPO because of the accident. The sales manager, Salar Sharikandi or Sal, now joins us and offers to show me the damage on a different vehicle that is already on the lift.
The damage is in a non-critical location. I am a little hesitant, but at I am still interested in the vehicle at this point. So we go inside to start the looking at finance options.
The Good News
Mark informs me that my credit score of 739 qualifies for 4.85% interest. I should have done my research on interest rates before hand, so I blindly accept this rate.
Mark leaves the room for about 10 minutes and comes back with great news. He informs me that someone had mixed up this vehicle with a customer's vehicle and the one I am looking at purchasing had not been in any accidents and that it could qualify for CPO.
Mark informs me the inspection has already been taken place all I have to do is pay an additional $2,000 for the vehicle to be CPO. He continues to explain that a CPO vehicle would qualify for 1.9% financing and because the rate is lower it will only end up costing me $6 more a months. At this mark shows me my payment and it's still below $500.
At this point I am not even the least bit suspicious. I'm being charged $2,000 more than we initially agreed upon and I'm actually happy about it.
Mark disappears for another 10 minutes and reappears with even more good news. There is a promo right now this vehicle qualifies for and I will be getting an additional year of warranty at no cost.
At this point in my day Mark is my hero. I can see exactly why this guy has over 20 awards on his desk. The vehicle can be CPO and I am getting more warranty than originally anticipated. AWESOME!
The Finance Department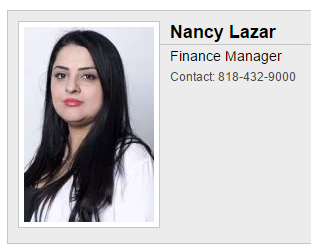 An hour later and we're ready to head into the finance department where I meet Nancy Lazar.
Typical stuff that I assume happens in every finance department. I sign about a whole bunch of documents.
Nancy tries to upsell me on the Tire and Rim protection which is an additional $2,000 or $20 a month. The good news is that this will bring my rate down from 1.9% to 0.9%
She proceeds to tell me BMW wheels are $1,000 a wheel and the run flat tires are $600 each. Dealers always try to upsell, so I don't mind this and I politely decline.
What really pissed me off about this is when I get home and check Century West BMW's own website, all CPO vehicles qualify for 0.9% financing. See screen shot of their website here.
(Later that night this makes me think back to Mark Nishimura. Was tricking me into paying $2,000 more by giving me a high non CPO price and then magically turning the car into a CPO vehicle? I don't know for sure but I am suspicious after Nancy pulled the same thing. If they're going to do it once, why not twice?)
I will also later find out that the Tire and Rim protection is a 3rd party warranty by a company called Safe Guard. This is not a BMW warranty.
But I am not home yet, I'm still in the finance department and I haven't put all these pieces together yet. So I'm happily signing away documents.
This is where things start to get weird
It's time to sign the big document. The one where I give them my money and sign my soul away.
I briefly leave the finance office to get my down payment out of my car. When I get back my girlfriend is no longer in the office. I will only find out later that night when we talk about this incident what happened.
Mark Nishimura apparently had intercepted my girlfriend on her way back from the restroom and told her that I was signing the last document that I would be out in a minute and he wanted to show her some of the features of the vehicle.
Ok now we didn't go over an feature prior to this moment. I am signing the last and final document so why all of a sudden is it important to show the girlfriend of the person buying the vehicle the features of the vehicle.
Reflecting back on this I suspect (but have no proof) that they intentionally pulled her away so there was only 1 set of eyeballs to catch errors or mistakes on the final document. The other option is that Mark is the nicest, most honest and proactive used car salesmen ever.
The incredible errors in the final document had set my mind.
Why don't the numbers add up?
One of my personality flaws is that I am very trusting. Today Century West BMW has changed this... forever.
In my past experience of signing documents like this the person who is the authority usually explains to the layperson the numbers, pointing to sections saying this is the agreed price, this is the taxes and fees, this is your final payment this is what you will pay over the course of the loan.
My experience this day had none of this. The document was presented to me and Nancy pointed to individual sections and with sign here, sign here, sign here.
I had put about 2 signatures on this document before I said "Hang on a second. I just want to check all the numbers."
I am looking through the numbers and Nancy still offers no explanations for me. But I see one number and it seems really high. I wanted a car for $33,000 and the sale price is saying $37,911.
I know there are taxes and fees and etc. So I ask her to explain the numbers to me and how they all add up to $37,911.
She says she's not sure what me and Mark originally agreed upon so she'll call him and ask him to come in. This is odd to me because your job is finance. How is it that you cannot explain the finances to me and need to call in the sales person to explain the numbers to me.
My suspicion level is rising.
They never answered my question
Mark proceeds to tell me that this is because of the CPO fees I had to pay. I show him the numbers and tell him that including those fees the numbers still do not add up.
At this point mark calls Sal into the office and I ask Sal why the numbers do not add up.
Sal says Mark was mistaken that CPO is not $2,000, but $3,500. But wait, in my chit-chat with Nancy she had said Mark has worked there for 25 years (hence all the awards). How does he not know how much CPO is?
In my head I am thinking why am I even paying more for CPO anyway? Isn't a vehicle CPO or not? I have never heard of paying for CPO. Can someone from a dealer comfirm this for me?
Are they trying to defraud me?
Sal admits that they have made a mistake and says that he will take $1,000 off the contract. Nancy tosses the original contract and prints another minus $1,000.
I am so suspicious at this point I snap a photo of this new contract with my mobile.
I look at the contract and I say "Sal, even this new contract, the numbers do not add up."
He proceeds to tell me that BMW's are expensive vehicles and that getting it serviced is expensive and that I will need this CPO and that is where the additional cost is.
At the same time Nancy whips out a spreadsheet showing me that if I were to purchase this warranty it would have cost me an additional $6,700.
So I say "Sal, me and Mark agreed on $33,000 and including the $3,500 CPO, this contract is still more. Why do the numbers not add up?"
He tells me that for them to CPO the vehicle they needed to replace the tires on the car which are expensive.
I politely explain to him that this happened prior to me and Mark agreeing on a price and that I will not pay for this.
In my head I am thinking "Fuck you Sal."
I notice nancy pull the contract off the table and put it behind her.
I plan my exit
I won't put the whole story together until later, but at this point I do not trust anyone in the room.
Now I tell all three of them "Me and Mark had initially agreed on $33,000 on this vehicle and that I had confirmed prior to agreeing on a price this vehicle was CPO."
Sal tells me that this vehicle was not listed as CPO. I respond "I confirmed with Mark that it was CPO prior to driving up". He says that Mark was mistaken.
Mark interjects and denies that ever discussed CPO prior to coming into the dealership. He started suggesting that it was someone else and I asks if I remember who it was that I was talking to about CPO.
I tell him "It was you Mark". At this point I pull out my phone and show all three of them the email thread.
I show them the entire thread. I point and say "Here is where Mark says it is CPO. And then in the next email, here is where we agree on the price of $33,000"
Sal tells me for the 3rd time how bringing my car into the dealership is expensive and how CPO will save me so much money and that I will need this.
The Salesman (Mark Nishimura), Sales Manager (Sal) and the Finance Manger still have yet to explain why the numbers do not add up.
Time to get out... as fast as I can
I politely tell them that I am feeling uncomfortable and that I will not be signing any more documents this day.
I pull my deposit off the table and stand up.
When I exit the building I find my girlfriend in the car and I tell her that were are leaving... without the car.
She stares at me funny and isn't sure if I am joking or not. I assure her that I am not joking and she gets up out of the drivers seat.
Sal catches up with me and in a quiet voice appologizes and says he really wants to do what he can to make me happy. He tells me that he will take an additional $1,000 off the contract.
I inform him that there is nothing that he do that I will absolutely not sign any contract under any conditions today.
Me and my girlfriend exit. She is unaware of what has happened in the past 10 minutes. I can't exit fast enough.
Post thoughts
I'm home and I start thinking about everything that has happened. This is when I check Century West BMW's website and notice that all CPO vehicles are 0.9%. I think back to Nancy telling me she can lower my rate from 1.9% to 0.9% if I buy the Tire and Wheel warranty. WTF?
Was the vehicle mixup real or was that some elaborate plot to convince me to pay $2,000 more for the same vehicle?
So was Mark artificially inflating the rate to 4.85% so that he could hide the $2,000 cost for CPO by lowering the rate to 1.9%?
Did he lower the rate to 1.9% so that I could be upsold the Tire and Wheel warranty by dropping the rate to 0.9%?
Was my girlfriend intentionally pulled out of the room so there would be less eyeballs on the contract to catch errors?
Saying I am super pissed would be an understatement. I'm a mushroom cloud-laying motherfucker, motherfucker!